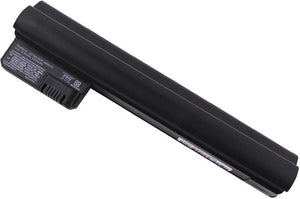 HP Pavilion DV3-2000 series, DV3-2100 series, series, CQ35-400 series, CQ36, CQ36-100 series
Dhs. 75.00

Dhs. 75.00

Save Dhs. 35
---
---
Delivery
Warranty
About this Battery
Disclaimer
Delivery
We offer delivery to Dubai, Abu Dhabi, Al Ain, Sharjah, Ajman, Ras Al Khaimah, Fujairah, Umm Al Quwain, UAE
Same Day Delivery available for Dubai, Sharjah and Ajman
Warranty
Warranty
6 Month Warranty for our batteries products.
We use the highest quality lithium-polymer batteries that charge faster and last longer.
The High quality laptop battery operates above 600 charge-discharge cycle. Our batteries are made up of high-grade cells and highest quality parts that are safe for your device. Higher quality cells mean they charge faster and last longer. Our battery perfectly fits in your device also it is compatible replacement for size and appearance. The battery has passed quality check procedures including safety testing. We offer the best quality in competitive price rates for the replacement batteries.
About this Battery
1. Before normal use of the new battery, discharge the capacity to about 10%, then fill the cycle 3-4 times. Be careful not to discharge to 0%. This will make the battery more fragile.

2. When using the battery, recharge it immediately when it runs out. If you do not charge the battery for a long time, the battery may be damaged, so be careful with exposure and moisture.

3. Do not disassemble, crush or puncture the battery. Do not throw the battery into fire or water.

4. If you do not use the battery for a long time, you need to charge it 70% or more and store it, the storage period should not exceed 3 months, and if you do not use it for more than 3 months, you need to fill the power.
Disclaimer
Disclaimer:
The batteries and charger sold by our company are replacements, which can be used with certain products of computer manufacturers.

Any referenced product names, Images or trademarks of such companies is merely for the purpose of identifying the match between our batteries and their machines.

Our company and this website are not affiliated with, authorized by, licensed by, distributed by these original computer manufacturers, nor are these products (replacement) in our website manufactured by or sold with the authorization of any of such manufacturers.
Description
HP Pavilion DV3-2000 series, DV3-2100 series, series, CQ35-400 series, CQ36, CQ36-100 series

specification:

⦁ Battery Type: Lithium-lon
⦁ Voltage: 10.8 V
⦁ Cell: 6 Cells

compatible part number:

⦁ 516479-121
⦁ HSTNN-DB94
⦁ HSTNN-IB93
⦁ HSTNN-IB94
⦁ HSTNN-LB93
⦁ HSTNN-LB94
⦁ HSTNN-OB93
⦁ HSTNN-OB94
⦁ HSTNN-XB93
⦁ HSTNN-XB94
⦁ NU089AA

compatible model:

Compaq Presario CQ35-100 Pavilion dv3-2030ez Pavilion dv3-2129tx Pavilion dv3-2318tx Compaq Presario CQ35-117TX
Compaq Presario CQ35-200 Pavilion dv3-2030tx Pavilion dv3-2130ea Pavilion dv3-2319tx Compaq Presario CQ35-118TU
Compaq Presario CQ36-100 Pavilion dv3-2032tx Pavilion dv3-2130ef Pavilion dv3-2320ep Compaq Presario CQ35-118TX
Pavilion dv3-2000 Pavilion dv3-2033eg Pavilion dv3-2130ei Pavilion dv3-2320es Compaq Presario CQ35-119TX
Pavilion dv3-2001tu Pavilion dv3-2033tx Pavilion dv3-2130el Pavilion dv3-2320tx Compaq Presario CQ35-120TX
Pavilion dv3-2001TX Pavilion dv3-2034tx Pavilion dv3-2130es Pavilion dv3-2321tx Compaq Presario CQ35-121TX
Pavilion dv3-2001xx Pavilion dv3-2035tx Pavilion dv3-2130ez Pavilion dv3-2322tx Compaq Presario CQ35-122TX
Pavilion dv3-2002tu Pavilion dv3-2036tx Pavilion dv3-2131tx Pavilion dv3-2323tx Compaq Presario CQ35-124TX
Pavilion dv3-2002tx Pavilion dv3-2050ea Pavilion dv3-2133tx Pavilion dv3-2324tx Compaq Presario CQ35-125TX
Pavilion dv3-2003tu Pavilion dv3-2050ec Pavilion dv3-2135tx Pavilion dv3-2325tx 
We offer the best price for HP Pavilion DV3-2000 series, DV3-2100 series, series, CQ35-400 series, CQ36, CQ36-100 series in UAE.
Buy now with the best price!
AED: 75.0
Compatible Part Number
NU089AA
Compatible Model Number
Pavilion dv3-2030ez, Compaq Presario CQ35-126TX
Pavilion dv3-2003tx Pavilion dv3-2050eo Pavilion dv3-2136tx Pavilion dv3-2326tx Compaq Presario CQ35-127TX
Pavilion dv3-2004tu Pavilion dv3-2050ep Pavilion dv3-2137tx Pavilion dv3-2327tx Compaq Presario CQ35-128TX
Pavilion dv3-2004tx Pavilion dv3-2050es Pavilion dv3-2138tx Pavilion dv3-2328tx Compaq Presario CQ35-129TX
Pavilion dv3-2005ee Pavilion dv3-2050ev Pavilion dv3-2139tx Pavilion dv3-2329tx Compaq Presario CQ35-200
Pavilion dv3-2005tu Pavilion dv3-2050ew Pavilion dv3-2140ei Pavilion dv3-2330tx Compaq Presario CQ35-201TX
Pavilion dv3-2005tx Pavilion dv3-2051ea Pavilion dv3-2140eo Pavilion dv3-2340ez Compaq Presario CQ35-202TU
Pavilion dv3-2006tu Pavilion dv3-2055ea Pavilion dv3-2144tx Pavilion dv3-2350ed Compaq Presario CQ35-202TX
Pavilion dv3-2006tx Pavilion dv3-2060ea Pavilion dv3-2145tx Pavilion dv3-2350ee Compaq Presario CQ35-203TX
Pavilion dv3-2007ee Pavilion dv3-2060ek Pavilion dv3-2146tx Pavilion dv3-2350el Compaq Presario CQ35-204TX
Pavilion dv3-2007tu Pavilion dv3-2070es Pavilion dv3-2147tx Pavilion dv3-2355ee Compaq Presario CQ35-205TX
Pavilion dv3-2007tx Pavilion dv3-2080eo Pavilion dv3-2149tx Pavilion dv3-2360ee Compaq Presario CQ35-206TU
Pavilion dv3-2008tu Pavilion dv3-2090ej Pavilion dv3-2150ec Pavilion dv3-2380eg Compaq Presario CQ35-207TU
Pavilion dv3-2008tx Pavilion dv3-2090en Pavilion dv3-2150ej Pavilion dv3-2390eg Compaq Presario CQ35-208TU
Pavilion dv3-2009tx Pavilion dv3-2100 Pavilion dv3-2150el Pavilion dv3-2390eo Compaq Presario CQ35-211TX
Pavilion dv3-2010el Pavilion dv3-2101tu Pavilion dv3-2150ep Pavilion dv3t-2000 Compaq Presario CQ35-213TX
Pavilion dv3-2010et Pavilion dv3-2101tx Pavilion dv3-2150es Compaq Presario CQ35-101TU Compaq Presario CQ35-214TX
Pavilion dv3-2010tx Pavilion dv3-2102tu Pavilion dv3-2150ev Compaq Presario CQ35-101TX Compaq Presario CQ35-215TU
Pavilion dv3-2011tx Pavilion dv3-2102tx Pavilion dv3-2150tx Compaq Presario CQ35-102TU Compaq Presario CQ35-216TU
Pavilion dv3-2012tx Pavilion dv3-2103tu Pavilion dv3-2150us Compaq Presario CQ35-102TX Compaq Presario CQ35-217TU
Pavilion dv3-2013tx Pavilion dv3-2103tx Pavilion dv3-2154ca Compaq Presario CQ35-103TU Compaq Presario CQ35-217TX
Pavilion dv3-2014tx Pavilion dv3-2105ee Pavilion dv3-2155ee Compaq Presario CQ35-103TX Compaq Presario CQ35-218TU
Pavilion dv3-2015ee Pavilion dv3-2105tu Pavilion dv3-2155mx Compaq Presario CQ35-104TU Compaq Presario CQ35-219TX
Pavilion dv3-2015tx Pavilion dv3-2106tu Pavilion dv3-2157cl Compaq Presario CQ35-104TX Compaq Presario CQ35-222TX
Pavilion dv3-2016tx Pavilion dv3-2107tu Pavilion dv3-2160eo Compaq Presario CQ35-105TU Compaq Presario CQ35-223TX
Pavilion dv3-2017ee Pavilion dv3-2107tx Pavilion dv3-2165ee Compaq Presario CQ35-105TX Compaq Presario CQ35-224TX
Pavilion dv3-2017tx Pavilion dv3-2108tu Pavilion dv3-2175ee Compaq Presario CQ35-106TU Compaq Presario CQ35-225TX
Pavilion dv3-2018tx Pavilion dv3-2110eg Pavilion dv3-2300 Compaq Presario CQ35-106TX Compaq Presario CQ35-226TX
Pavilion dv3-2019tx Pavilion dv3-2110er Pavilion dv3-2301tu Compaq Presario CQ35-107TU Compaq Presario CQ35-227TX
Pavilion dv3-2020ei Pavilion dv3-2110es Pavilion dv3-2301tx Compaq Presario CQ35-107TX Compaq Presario CQ35-228TX
Pavilion dv3-2020el Pavilion dv3-2110tx Pavilion dv3-2302tx Compaq Presario CQ35-108TU Compaq Presario CQ35-229TX
Pavilion dv3-2020et Pavilion dv3-2111tx Pavilion dv3-2303tx Compaq Presario CQ35-108TX Compaq Presario CQ35-230TX
Pavilion dv3-2020tx Pavilion dv3-2112tx Pavilion dv3-2304tx Compaq Presario CQ35-109TU Compaq Presario CQ35-233TX
Pavilion dv3-2021tx Pavilion dv3-2113tx Pavilion dv3-2305tx Compaq Presario CQ35-109TX Compaq Presario CQ35-235TX
Pavilion dv3-2022tx Pavilion dv3-2114tx Pavilion dv3-2306tx Compaq Presario CQ35-110TU Compaq Presario CQ35-236TX
Pavilion dv3-2023tx Pavilion dv3-2115ea Pavilion dv3-2307tx Compaq Presario CQ35-110TX Compaq Presario CQ35-238TX
Pavilion dv3-2024tx Pavilion dv3-2115ee Pavilion dv3-2308tx Compaq Presario CQ35-111TU Compaq Presario CQ35-240TX
Pavilion dv3-2025ee Pavilion dv3-2116tx Pavilion dv3-2309tx Compaq Presario CQ35-111TX Compaq Presario CQ35-241TX
Pavilion dv3-2025eg Pavilion dv3-2117tx Pavilion dv3-2310ea Compaq Presario CQ35-112TU Compaq Presario CQ35-242TX
Pavilion dv3-2025tx Pavilion dv3-2119tx Pavilion dv3-2310er Compaq Presario CQ35-112TX Compaq Presario CQ35-243TX
Pavilion dv3-2026tx Pavilion dv3-2120ea Pavilion dv3-2310sw Compaq Presario CQ35-113TU Compaq Presario CQ35-244TX
Pavilion dv3-2027ee Pavilion dv3-2120ss Pavilion dv3-2310tx Compaq Presario CQ35-113TX Compaq Presario CQ36-100
Pavilion dv3-2027tx Pavilion dv3-2121tx Pavilion dv3-2311tx Compaq Presario CQ35-114TU Compaq Presario CQ36-103TX
Pavilion dv3-2028tx Pavilion dv3-2122tx Pavilion dv3-2312tx Compaq Presario CQ35-114TX Compaq Presario CQ36-104TX
Pavilion dv3-2029tx Pavilion dv3-2123tx Pavilion dv3-2313tx Compaq Presario CQ35-115TU Compaq Presario CQ36-105TX
Pavilion dv3-2030ef Pavilion dv3-2125ee Pavilion dv3-2314tx Compaq Presario CQ35-115TX Compaq Presario CQ36-106TX
Pavilion dv3-2030ei Pavilion dv3-2126tx Pavilion dv3-2315tx Compaq Presario CQ35-116TU Compaq Presario CQ36-108TX
Pavilion dv3-2030ek Pavilion dv3-2127tx Pavilion dv3-2316tx Compaq Presario CQ35-116TX Compaq Presario CQ36-110TX
Pavilion dv3-2030eo Pavilion dv3-2128tx Pavilion dv3-2317tx Compaq Presario CQ35-117TU Compaq Presario CQ36-113TX
---
We Also Recommend