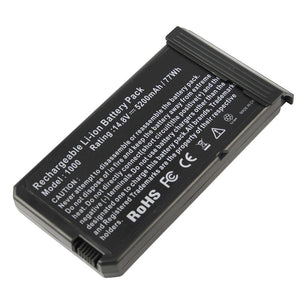 Dell Inspiron 2200 Replacement Laptop Battery
Dhs. 175.00

Dhs. 175.00

Save Dhs. 65
---
---
Delivery
Warranty
About this Battery
Disclaimer
Delivery
We offer delivery to Dubai, Abu Dhabi, Al Ain, Sharjah, Ajman, Ras Al Khaimah, Fujairah, Umm Al Quwain, UAE
Same Day Delivery available for Dubai, Sharjah and Ajman
Warranty
Warranty
6 Month Warranty for our batteries products.
We use the highest quality lithium-polymer batteries that charge faster and last longer.
The High quality laptop battery operates above 600 charge-discharge cycle. Our batteries are made up of high-grade cells and highest quality parts that are safe for your device. Higher quality cells mean they charge faster and last longer. Our battery perfectly fits in your device also it is compatible replacement for size and appearance. The battery has passed quality check procedures including safety testing. We offer the best quality in competitive price rates for the replacement batteries.
About this Battery
1. Before normal use of the new battery, discharge the capacity to about 10%, then fill the cycle 3-4 times. Be careful not to discharge to 0%. This will make the battery more fragile.

2. When using the battery, recharge it immediately when it runs out. If you do not charge the battery for a long time, the battery may be damaged, so be careful with exposure and moisture.

3. Do not disassemble, crush or puncture the battery. Do not throw the battery into fire or water.

4. If you do not use the battery for a long time, you need to charge it 70% or more and store it, the storage period should not exceed 3 months, and if you do not use it for more than 3 months, you need to fill the power.
Disclaimer
Disclaimer:
The batteries and charger sold by our company are replacements, which can be used with certain products of computer manufacturers.

Any referenced product names, Images or trademarks of such companies is merely for the purpose of identifying the match between our batteries and their machines.

Our company and this website are not affiliated with, authorized by, licensed by, distributed by these original computer manufacturers, nor are these products (replacement) in our website manufactured by or sold with the authorization of any of such manufacturers.
Description
Dell Inspiron 2200 Replacement Laptop Battery
specification:

⦁ Battery Type: Lithium-lon
⦁ Capacity:5200mAh/77 Wh
⦁ Voltage:14.8 V

compatible part number:

⦁ DELL 312-0292
⦁ DELL 312-0326
⦁ DELL 312-0334
⦁ DELL 312-0335
⦁ DELL 312-0347
⦁ DELL G9812
⦁ DELL G9817
⦁ DELL H9566
⦁ DELL M5701
⦁ DELL P5413
⦁ DELL T5443
⦁ DELL W5173
⦁ DELL W5543
⦁ NEC 0R5533
⦁ NEC 0T5179
⦁ NEC 312-0292
⦁ NEC 312-0326
⦁ NEC 312-0334
⦁ NEC 312-0335
⦁ NEC 312-0346
⦁ NEC 312-0347
⦁ NEC 6050000
⦁ NEC 7005950000
⦁ NEC 7045920000
⦁ NEC 7046050000
⦁ NEC AP*A000084900
⦁ NEC EUP-K2-4-24
⦁ NEC EUP-K2-B-40
⦁ NEC G9812
⦁ NEC G9817
⦁ NEC H9566
⦁ NEC K9343
⦁ NEC M5701
⦁ NEC OP-570-76620
⦁ NEC OP-570-76701
⦁ NEC OP-570-76702
⦁ NEC OP-570-76901
⦁ NEC P5413
⦁ NEC PC-VP-WP59
⦁ NEC PC-VP-WP59/OP-570-76702
⦁ NEC PC-VP-WP60
⦁ NEC PC-VP-WP60/OP-570-76701
⦁ NEC PC-VP-WP64
⦁ NEC PC-VP-WP64/OP-570-76901
⦁ NEC PC-VP-WP66-01
⦁ NEC SQU-527
⦁ NEC T5443
⦁ NEC W5173
⦁ NEC W5543

compatible model:

⦁ Inspiron 1200, Inspiron 2200, Latitude 110L, nspiron 1000, PP08S, Nec Easy Note C3 Series, EasyNote C3202 Series, EasyNote C3205 Series, EasyNote C3223 Series, EasyNote C3300 Series, I-Select M5210, Lavie PC-LL780AD, LaVie S Model LS700/8D, LaVie S Model LS700/9D, LaVie S Model LS7009D, LaVie S Model LS900/8E, VERSA C250, Versa M160, Versa M350, Versa M360, Versa P550, VersaPro RF-R, VersaPro RX-R, VersaPro VY13M, VersaPro VY16F, VersaPro VY18F, Nec Lavie Pc-ll Series Lavie PC-LL7509D, Lavie PC-LL750AD, Lavie PC-LL7709DT, Lavie PC-LL770AD, Lavie PC-LL9009D, Lavie PC-LL900AD, Lavie PC-LL9709D, Nec Versa E6000 Series Versa E6000, Versa E6000X
We offer the best price for Dell Inspiron 2200 Replacement Laptop Battery in UAE.
Buy now with the best price!
AED: 175.0
Compatible Part Number
NEC H9566
Compatible Model Number
Latitude 110L
---
We Also Recommend